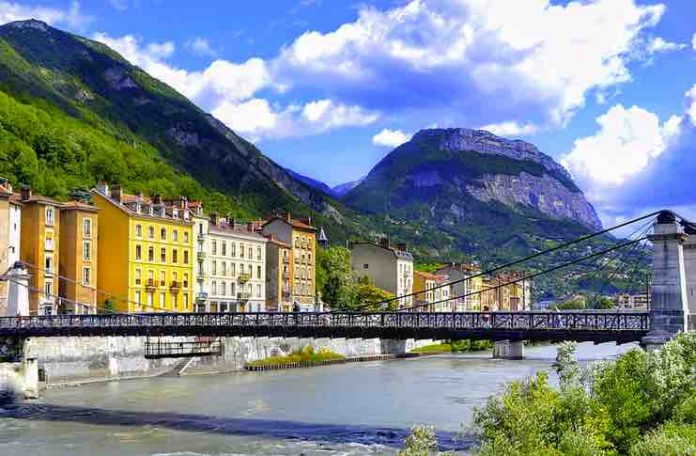 Planning a holiday in France? Looking for holiday deals in L'Hexagone (a nickname for France, which refers to the hexagon shape of France)? Don't know where to start? Well, we'll try to help you out with a few of our top recommended destinations for your next vacation in France. 
France is practically filled with countless beautiful places. Every corner of the country has its own special character. Romantic Paris and her Eiffel tower, the beautiful sunny beaches of the Cote d'Azur coastline, the rough and rocky French Alps, down to the dreamy and beautiful wine yards of Provence. 
As you plan your trip to France, be sure to get the best holiday deals you can find. Why spend more if you can find the same deal for less? These deals can usually be found online, on sites like DealChecker.  
So let's dive into our 5 tips for best holiday destinations in France:
1. The Old Capital of the Dauphiné Region: Grenoble
This beautiful old city is located in a basin of the Isere Valley, surrounded by magnificent 3,000-meter mountains. Grenoble is rich with natural attractions, like the Verdant Parks and Gardens, Chartreuse Regional Nature Park, Fort de la Bastille and many more. 
As the old capital of the Dauphiné, Grenoble was the meeting place for the Estates of the region. Where did they all meet? In one of the most historic and elegant buildings in Grenoble, where you should definitely visit – the Palais de Justice. Built between the 15th and 16th centuries, it has a dazzling early Renaissance facade.
You should also visit the city's Museum, The Musee de Grenoble, which is regarded as one of the most important museums in France. It's a magnificent fine arts museum, which exhibits exquisite paintings by the biggest French artists, including Monet, Rubens, Philippe de Champaigne, George de la Tour, Delacroix, as well as modern art legends like Picasso, Matisse and others.    
2. The UNESCO-listed City in Lorraine: Nancy
The former capital of the Lorraine region is described as a "Versailles for the people". In the center of its old city, you will find a few UNESCO World Heritage-listed sites. One of is Place Stanislas, where the fountains flowed with wine back in 1755, when its creator, Stanislaw Leszczynski inaugurated them. Regarded as one of the finest squares in the world, Place Stanislas by itself is worth the visit to Nancy. 
At Place Stanislas, you will also find a wonderful Museum, The Musée des Beaux-Arts, which was founded in 1793 and showcases a fine collection of European paintings. 
For families with kids – we recommend visiting Pépinière Park, which is also located just a few steps from Place Stanislas. This huge English-style park includes a beautiful Rose Garden, open grass areas, and sports features like basketball, soccer, and other games. Small kids can enjoy the park's playground, as well as its Mini Zoo.  
3. Former Home of the Pope: Avignon
This charming city, whose historic center also became a UNESCO World Heritage site, sits on the banks of the Rhone river. At one stage in history, back in the 14th century – it was the home of the Papacy. Today, in the center of its Old Town, you can find the Pope's Palace – which is regarded as the biggest Gothic palace on the planet. The Palace truly dominates the cityscape of Avignon, but its also worth a visit inside. They have a wonderful interactive experience that shows you how the rooms and chapels looked like hundreds of years ago.
Another tourist attraction in Avignon is Pont D'Avignon, a once important bridge between the Papal state of Comtat Venaissin and France. This famous 900m long bridge was built over the Rhone river, which eroded the bridge's iconic arches over time. Eventually, they collapsed under the pressure of the strong river. Today, only four arches and the Chapel of St. Nicholas are all that survived. Pont D'Avignon was immortalized by a popular French song 'Sur le Pont d'Avignon', and became an icon both in France and abroad. 
4. The Oldest City in France: Marseille 
It might not be on the top list of touristic cities in Europe, but with a perfect location along the Mediterranean coast and a lot of history – Marseille should be on your list. In 2013 it received the status of "European Capital of Culture", which brought with it it a budget of 650 million Euros to build and renovate.
Marseille has a huge port that has been operational for 2,600 years (!), reminding us that it is the oldest city in France. However, it is definitely not a dull city. It has a magnificent coastal setting, great weather, good restaurants, tourist-friendly attractions, lots of cultural centers, and it's only 3-hours by train from Paris.
You should definitely visit Le Panier, not far from the Old Port, this was the site of the Greek colony of Massaila. Today it's a very trendy district with lots of unique craft shops, coffee shops, and boutiques. 
For natural beauty lovers, we recommend visiting the Calanques National Park. These are rocky white limestone cliffs and creeks which reach enormous heights. If you're truly adventurous, try to make it to the amazing cove at Calanque d'En Vau.
5. The Capital of Wine: Bordeaux
When it comes to Bordeaux – it's really all about wine, so you should at least like wine if you plan to visit this city. As you roam the city, you'll find tons of wine bars, from all kinds and sorts. A Bordeaux wine tour is highly recommended, there are lots to choose from. These can range from 35 to 200 euro. 
After having enough wine for the whole trip, you should definitely visit La Place de la Bourse, which is known for its Water Mirror. This wonder is the largest reflecting pool in the world and also became a UNESCO World Heritage site. The pool is only 2 cm deep, but it produces a fascinating mirroring effect that reflects the Place de la Bourse and the surrounding buildings.
Before ending your visit to the wine capital of France, you should visit its city park. Jardin Public is not just a beautiful green park. You can also find there an arboretum, a library and the Museum of Natural History. It's a great place to spend a day in the summer.
These were just a few of our tips for holiday destinations in France. There are so many more in L'Hexagone, but we'll keep them for future posts. So remember to plan your travel well, enjoy what each and every place has to offer, and share with us your experiences.