French is one of the most popular second languages for people to learn and there's nothing like being able to study French in France. By learning a second language you are not only bettering your prospects for future employment, but you're also giving yourself the opportunity to become a better-rounded individual. Below are some great ways to do so, backed by years of experience, one of which might be the best way to learn French – for you…
1. Conversational French Lessons
By far, the best way to learn French is to partake in conversational French lessons. At first, it may seem like you don't have a single idea of what the person is talking about but after a small amount of time you'll start to pick up on different words. If you have a friend or a family member that is fluent in French, ensure that while talking they use hand gestures to accentuate their point. Eventually you'll be able to understand different vocabulary words and begin to grasp the concept of the French language.
Conversational French lessons are also a great addition to regular studies, if you're enrolled in any. You can also find great conversational french lessons online. There are plenty, like the one above, or the one below…
2. Study French in France
If you're planning a trip abroad, why not take the time to sign up for French classes while you're overseas? There isn't a more authentic way to learn about French than to be taught by someone who clearly has a strong handle on the language, such as a resident of France. It will give you the ability to get a clear understanding of the proper way to speak French as well as any local slang that you can use while in conversation. Plus, anything that you pick up from being able to study French in France can help you to further enjoy your trip.
3. Taking Classes in Advance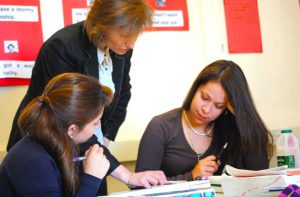 If you want to be very prepared for your trip, there's also the opportunity to take classes in your home country, although they may not be the best way to learn French. You'll still be able to get a strong understanding of the second language, but you might not receive as authentic of a teaching experience as you would if you chose to study French in France. Plus, unless other people in your course or class have gathered a strong understanding of French, it can be difficult to participate in conversational French lessons in an informal setting. Many people opt for both at-home and overseas French lessons.