French food is revered worldwide. As fancy and satiating some French food is, it is equally daunting to prepare and cook. It would be unfair to compare a French cooking class with any other cuisine because every cuisine has its share of strengths and weakness. Thus, every cuisine is relatively easy or difficult to master depending on what kind of exposure you have.
There is no dearth of French cooking classes but you need to pick the best. Over the years, many French food recipes have made inroads stateside and spread beyond Europe transcending across Asia. With this growing influence, French food has become popular and adulterated at the same time. Some people would say that the French recipes and cooking styles have been adapted to suit personal tastes. Hence, you need to decide whether you would go for traditional French cooking classes or just about any version of a French cooking class would work for you.
If you are contemplating becoming a chef then you need to focus on the certificate or the degree program being offered by French cooking classes. You should check the kind of pre-professional career training that's being imparted and you must focus on the profiles of the faculty members of the institute.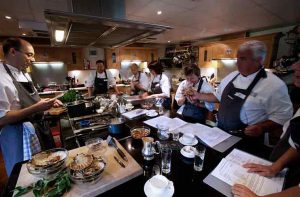 You would come across French cooking classes specializing in baking, covering bread and pastry. There are those that cover a much broader curriculum. Then there are some that impart state of the art training using cutting edge technology or what is referred to as avant-garde French cooking.
There are professional cooking courses running from six or seven months to a year and degrees usually take two years. Always ensure that you pick a French cooking class that teaches you food safety, gastronomy and fundamental techniques of French cooking. Associate of Applied Science in Culinary Arts is a 2-year academic program combining classroom training and practical training in a well provisioned kitchen. French cooking classes can be categorized in many groups including food and wine pairing, French classic cuisine, cooking theory, Mediterranean cooking and advanced culinary techniques among others. Choose what suits you best.
The best French cooking classes in the United States are offered by Central New Mexico Community College, Central Oregon Community College, Coahoma Community College, Delaware Technical Community College-Stanton/Wilmington, Fayetteville Technical Community College, Grand Rapids Community College, Horry-Georgetown Technical College, Mohave Community College, Southwest Wisconsin Technical College and Scottsdale Community College.