MosaLingua, the language-learning company headquartered in Lyon, Rhône-Alpes, France, has just announced the launch of 💬MosaChat-AI, a conversational tool designed to help language learners communicate with a virtual tutor at any time of the day. 
MosaLingua aims to create the first AI-based language tutor that merges the effectiveness of their MOSALearning® method, their extensive language-learning content, and more than 13 years of experience in teaching languages.
💬 MosaChat-AI has been developed to enable language learners to converse with "eTutor Aida," receiving real-time corrections while practicing their target language. MosaLingua has used its expertise and methodology to simulate various situations to help learners derive all the benefits from this powerful new tool.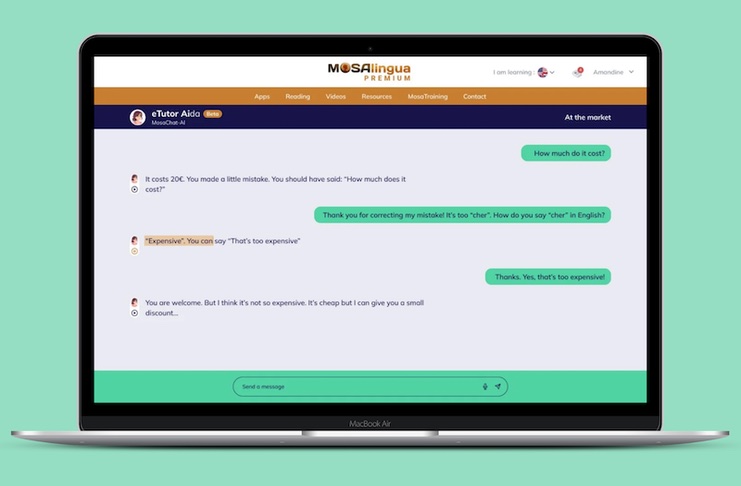 How AI is Being Used for Learning Languages
AI is increasingly being used to learn languages today, thanks to advances in natural language processing and machine learning. According to Pursuit, a publication of the University of Melbourne – language learning apps and software that incorporate AI are able to provide personalized language learning experiences that are tailored to the individual learner's needs and goals. These apps can adapt to the learner's pace, offer targeted practice exercises, and provide feedback on pronunciation and grammar. 
AI is also being used to create language learning chatbots that simulate real-life conversations, which can help learners practice their language skills in a more natural way. In addition, AI-powered language translation tools are becoming more sophisticated, making it easier for people to communicate with others who speak different languages. Overall, AI is helping to revolutionize the way people learn languages by making language learning more accessible, efficient, and effective.
Speak in real time and 24/7
The tool allows learners to practice a range of conversations, such as getting prepared for a trip, practicing for a job interview, applying vocabulary learned through the memorization app, seeking clarification on grammar questions, and discussing everyday topics.
MosaChat-AI is designed to adapt to the user's level and interests, offering customized feedback. Corrections can be transformed into flashcards and included in the learning app. Luca Sadurny, MosaLingua's co-founder, stated that "Coaching and tutoring have always been an important part of our method, and AI allows us to take a step further and provide an amazing tool for users to practice and apply their knowledge."
The beta version of 💬 MosaChat-AI has been launched internationally on April 7, 2023. Users with an active MosaLingua Premium account can access the tool at no additional cost via the web platform. However, in the future, the free version will have some limitations, and a subscription will be required to access the full range of features of this innovative tool. 
Want to Learn French with MosaLingua? 
If you're interested in learning French, MosaLingua offers a variety of tools and resources that can help you achieve your language-learning goals. Of course, you can learn other languages with it as well, like English, Spanish, Italian, Japanese, German, Portuguese, Russian, and Chinese. 
Here are some steps you can take to get started with MosaLingua:
Download the MosaLingua French app: MosaLingua offers a French language-learning app that is designed to help you learn French efficiently and effectively. You can download the app on your smartphone or tablet from the App Store or Google Play Store.

Create an account: Once you've downloaded the app, you'll need to create an account to access the full range of features. You can create a free account to try out the app, or upgrade to a paid subscription for access to more content and features.

Start learning: Once you've created an account, you can start using the app to learn French. The app uses a combination of repetition, active recall, and contextual learning to help you memorize vocabulary and grammar, and offers a variety of interactive exercises and quizzes to help you reinforce what you've learned.

Practice with MosaChat-AI: To practice your French speaking skills, you can use MosaChat-AI, a new conversation tool that allows you to converse with a virtual tutor in French at any time of day or night. MosaChat-AI uses AI technology to provide real-time corrections and feedback, and can help you improve your pronunciation and grammar.

Access additional resources: In addition to the app and MosaChat-AI, MosaLingua offers a variety of other resources to help you learn French, including a language-learning blog, pronunciation trainer, and writing course. You can also sign up for private coaching or language assessments if you want more personalized support.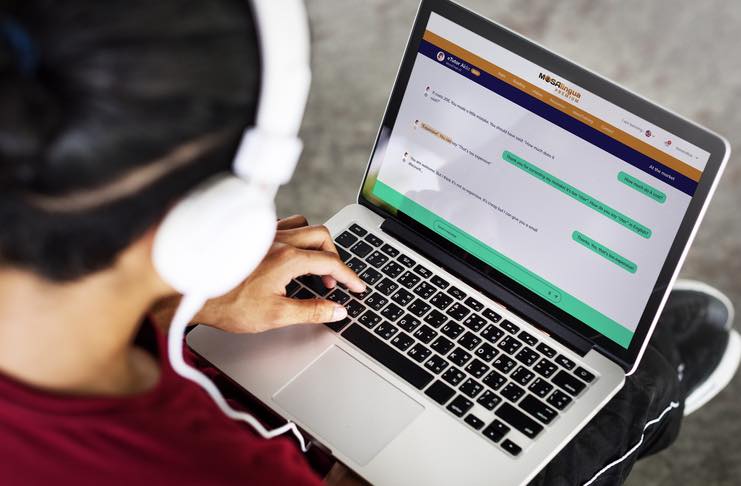 Overall, MosaLingua is a comprehensive and effective tool for learning French, and can help you achieve fluency in the language with consistent practice and dedication.
Conclusion
MosaLingua's language-learning method is based on a combination of repetition, active recall, and contextual learning. This approach has been shown to be highly effective in language learning, and MosaLingua's apps have received widespread praise for their user-friendly design and effectiveness in helping learners achieve their language goals. Overall, MosaLingua is a comprehensive language-learning platform designed to help learners at all levels achieve fluency in their target language.
Want to read more? Check out the latest of our articles about France.