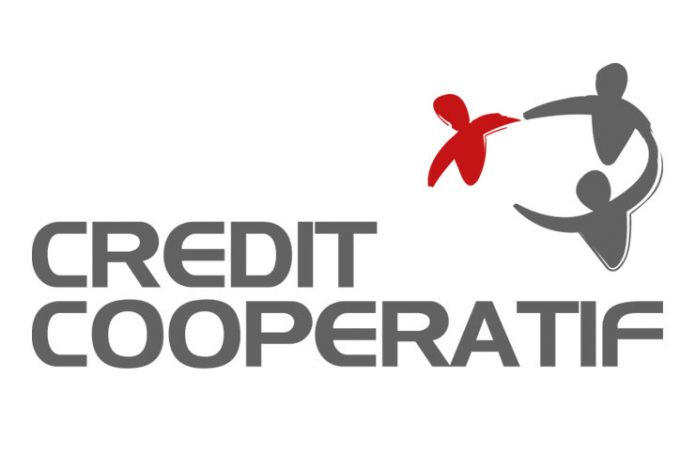 Crédit Cooperatif is a French cooperative bank, that provides all traditional banking services. Customers, both clients and associates hold 80% of its capital and form the Board of Directors. Credit Cooperatif is primarily known for his role of micro credits in France.
Crédit Cooperatif Group includes the Crédit Cooperatif bank, its subsidiaries and associated credit institutions. The banks is a member of Groupe BPCE and has the status of Banque Populaire.
Credit Cooperatif is a full-fledged bank, it provides all types of banking products and services (however, it focuses mainly on the savings and loans). There are also provided investment banking and issued banking cards.
The bank's mission is to implement services for the social and solidarity economy. Following the logic of cooperative response to members' needs, it develops activities in co-production with its customers. It creates and manages financial tools dedicated to: mutual guarantee funds for medical and social associations, social tourism, innovative associations, etc. For SMEs / SMI, with their federations and unions, the bank created financial guarantee cooperatives to facilitate their access to credit.
Headquarters location:
Rue des Trois Fontanot 33, Parc de la Défense
92002 Nanterre, Paris
France
Crédit Cooperatif Contacts:
Tel.: 01 47 24 85 00
website (English)
ATMs and Branches of Crédit Cooperatif:
EVRY Credit Cooperatif Branch
PARC ELYSEE EVRY-COURCOURONNE
17-19 RUE MICHEL-ANGE
BP53
91002 EVRY CEDEX
Tel. (Private Clients) : 0 980 98 00 00
Tel. from abroad : +33 171 087 512
Tel. (Companies, associations, mutual societies, other legal entities): 0 980 98 00 01
Tel. from abroad : +33 171 087 511
Fax : 01 60 78 55 89
E-mail: evry@credit-cooperatif.coop
Opening hours:
Monday-Friday 9h00-12h15 14h00-17h00
ODEON Credit Cooperatif Branch
122 BD SAINT GERMAIN
75006 PARIS
Tel. (Private Clients) : 0 980 98 00 00
Tel. from abroad : +33 171 087 512
Tel. (Companies, associations, mutual societies, other legal entities): 0 980 98 00 01
Tel. from abroad : +33 171 087 511
Fax : 01 43 29 76 35
E-mail: odeon@credit-cooperatif.coop
Opening hours:
Monday-Thursday 8H45-12H15 13H45-17H00
Friday 8H45-12H15 13H45-16H00
BOBIGNY Credit Cooperatif Branch
1 RUE CARNOT
93000 BOBIGNY
Tel. (Private Clients) : 0 980 98 00 00
Tel. from abroad : +33 171 087 512
Tel. (Companies, associations, mutual societies, other legal entities): 0 980 98 00 01
Tel. from abroad : +33 171 087 511
Fax : 01 48 32 34 10
E-mail: bobigny@credit-cooperatif.coop
Opening hours:
Monday-Friday 9h00-12h20 14h00-17h00
CERGY Credit Cooperatif Branch
2 MAIL LES CERCLADES
95031 CERGY PONTOISE CEDEX
Tel. (Private Clients) : 0 980 98 00 00
Tel. from abroad : +33 171 087 512
Tel. (Companies, associations, mutual societies, other legal entities): 0 980 98 00 01
Tel. from abroad : +33 171 087 511
Fax : 01 34 24 26 86
E-mail: cergy@credit-cooperatif.coop
Opening hours:
Monday-Friday 8H45-12H15 14H00-17H00
CRETEIL Credit Cooperatif Branch
38-42 AVENUE PIERRE BROSSOLETTE
94048 CRETEIL CEDEX
Tel. (Private Clients) : 0 980 98 00 00
Tel. from abroad : +33 171 087 512
Tel. (Companies, associations, mutual societies, other legal entities): 0 980 98 00 01
Tel. from abroad : +33 171 087 511
Fax : 01 48 99 77 95
E-mail: creteil@credit-cooperatif.coop
Opening hours:
Monday-Thursday 9h00-12h15 14h00-17h00
Friday 9h00-12h15 14h00-16h00
MASSY Credit Cooperatif Branch
2 PLACE DU VIEUX CLOCHER
91300 MASSY
Tel. (Private Clients) : 0 980 98 00 00
Tel. from abroad : +33 171 087 512
Tel. (Companies, associations, mutual societies, other legal entities): 0 980 98 00 01
Tel. from abroad : +33 171 087 511
Fax : 01 60 13 04 27
E-mail: massy@credit-cooperatif.coop
Opening hours:
Monday-Thursday 8H45-12H15 13H45-17H00
Friday 8H45-12H15 13H45-16H00
MELUN Credit Cooperatif Branch
11 RUE DE LA BRASSERIE GRUBER
77000 MELUN
Tel. (Private Clients) : 0 980 98 00 00
Tel. from abroad : +33 171 087 512
Tel. (Companies, associations, mutual societies, other legal entities): 0 980 98 00 01
Tel. from abroad : +33 171 087 511
Fax : 01 64 37 69 51
E-mail: melun@credit-cooperatif.coop
Opening hours:
Monday-Friday 9h00-12h15 14h00-17h00
NANTERRE – LA DEFENSE Credit Cooperatif Branch
96 RUE DES TROIS FONTANOT
92022 NANTERRE CEDEX
Tel. (Private Clients) : 0 980 98 00 00
Tel. from abroad : +33 171 087 512
Tel. (Companies, associations, mutual societies, other legal entities): 0 980 98 00 01
Tel. from abroad : +33 171 087 511
Fax : 01 47 24 87 64
E-mail: nanterre@credit-cooperatif.coop
Opening hours:
Monday-Friday 9h00-12h20 13h40-17h00
PARIS ALESIA Credit Cooperatif Branch
99 RUE DE LA TOMBE-ISSOIRE
75014 PARIS
Tel. (Private Clients) : 0 980 98 00 00
Tel. from abroad : +33 171 087 512
Tel. (Companies, associations, mutual societies, other legal entities): 0 980 98 00 01
Tel. from abroad : +33 171 087 511
Fax : 01 43 20 34 33
E-mail: alesia@credit-cooperatif.coop
Opening hours:
Monday-Thursday 8h45-12h15 13h45-17h00
Friday 8h45-12h15 13h45-16h00
PARIS NATION Credit Cooperatif Branch
252 BOULEVARD VOLTAIRE
75544 PARIS CEDEX 11
Tel. (Private Clients) : 0 980 98 00 00
Tel. from abroad : +33 171 087 512
Tel. (Companies, associations, mutual societies, other legal entities): 0 980 98 00 01
Tel. from abroad : +33 171 087 511
Fax : 01 40 19 07 67
E-mail: nation@credit-cooperatif.coop
Opening hours:
Monday-Thursday 8H45-12h20 14h00-17h15
Friday 8H45-12h20 14h00-16h15
PARIS-CONVENTION Credit Cooperatif Branch
147 RUE DE LA CONVENTION
75015 PARIS
Tel. (Private Clients) : 0 980 98 00 00
Tel. from abroad : +33 171 087 512
Tel. (Companies, associations, mutual societies, other legal entities): 0 980 98 00 01
Tel. from abroad : +33 171 087 511
Fax : 01 48 56 15 41
E-mail: convention@credit-cooperatif.coop
Opening hours:
Monday-Friday 8H45-12H20 14H00-17H00
PARIS-COURCELLES Credit Cooperatif Branch
80 RUE DE COURCELLES
75008 PARIS
Tel. (Private Clients) : 0 980 98 00 00
Tel. from abroad : +33 171 087 512
Tel. (Companies, associations, mutual societies, other legal entities): 0 980 98 00 01
Tel. from abroad : +33 171 087 511
Fax : 01 40 53 07 82
E-mail: courcelles@credit-cooperatif.coop
Opening hours:
Monday-Thursday 9h00-12h15 13h45-17h15
Friday 9h00-12h15 13h45-16h15
ST-DENIS Credit Cooperatif Branch
4 RUE AUGUSTE GILLOT
BP 41
93202 SAINT-DENIS CEDEX
Tel. (Private Clients) : 0 980 98 00 00
Tel. from abroad : +33 171 087 512
Tel. (Companies, associations, mutual societies, other legal entities): 0 980 98 00 01
Tel. from abroad : +33 171 087 511
Fax : 01 49 40 06 62
E-mail: saint-denis@credit-cooperatif.coop
Opening hours:
Monday-Friday 9h00-12h15 13h45-17h00
VERSAILLES Credit Cooperatif Branch
5-7 RUE DU MARECHAL FOCH
BP 432
78004 VERSAILLES CEDEX
Tel. (Private Clients) : 0 980 98 00 00
Tel. from abroad : +33 171 087 512
Tel. (Companies, associations, mutual societies, other legal entities): 0 980 98 00 01
Tel. from abroad : +33 171 087 511
Fax : 01 39 50 62 95
E-mail: versailles@credit-cooperatif.coop
Opening hours:
Monday-Friday 9h00-12h15 13h45-17h00
OPERA Credit Cooperatif Branch
4 RUE AUBER
75009 PARIS
Tel. (Private Clients) : 0 980 98 00 00
Tel. from abroad : +33 171 087 512
Tel. (Companies, associations, mutual societies, other legal entities): 0 980 98 00 01
Tel. from abroad : +33 171 087 511
Fax : 01 40 06 00 88
E-mail: opera@credit-cooperatif.coop
Opening hours:
Monday-Thursday 9H00-17H15
Friday 9H00-16H15
PARIS GARE DE L'EST Credit Cooperatif Branch
102 BOULEVARD DE MAGENTA
CS60019
75479 PARIS CEDEX 10
Tel. (Private Clients) : 0 980 98 00 00
Tel. from abroad : +33 171 087 512
Tel. (Companies, associations, mutual societies, other legal entities): 0 980 98 00 01
Tel. from abroad : +33 171 087 511
Fax : 01 40 34 18 41
E-mail: gde@credit-cooperatif.coop
Opening hours:
Monday-Friday 8H45-12H20 14H00-17H00
POMMIER Credit Cooperatif Branch
86 RUE DE COURCELLES
75008 PARIS
Tel. (Private Clients) : 0 980 98 00 00
Tel. from abroad : +33 171 087 512
Tel. (Companies, associations, mutual societies, other legal entities): 0 980 98 00 01
Tel. from abroad : +33 171 087 511
Fax : 01 56 79 60 54
E-mail: pommier@credit-cooperatif.coop
Opening hours:
Monday-Thursday 8H45-17H00
Friday 8H45-16H00