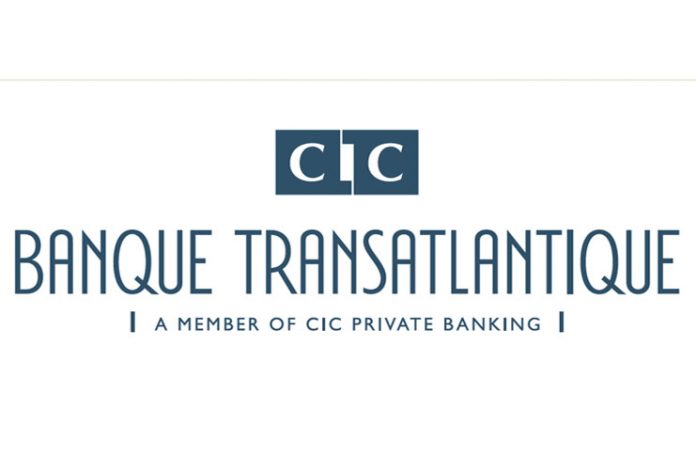 The Banque Transatlantique is a French private bank, a subsidiary of CIC. The bank headquartered in Paris and has subsidiaries and representative offices in Brussels (Belgium Banque Transatlantique), Luxembourg (Luxembourg Banque Transatlantique), London, Geneva, Montreal, Singapore, Washington, New York and Hong Kong.
The Banque Transatlantique has developed recognized expertise in the fields of the private banking, asset management, administration of employee share ownership scheme and the management of expatriates. Present in London since 1986, Banque Transatlantique continues to grow and multiply its operations at the international markets with subsidiaries, branches and representative offices: Singapore in 2001, Luxembourg in 2002, Brussels in 2005, New York , Montreal and Hong Kong in 2011, Geneva in 2012.
Banque Transatlantique is positioned on three main areas:
– The bank of French Citizens Abroad
– Employee Stock Ownership
– Wealth Management
Currently, it is a major bank that offers private banking in France with more than 20 billion euros of assets under management.
Bank's Head Office
26, avenue Franklin Delano Roosevelt
75008 Paris, France
Contacts:
Tel.: +33 1 5688 7777
Fax : +33 1 4225 3333
website (English)
Transat customers support direct line:
01 56 88 77 77 (00 33 1 from the outside)
from 9am to 18pm Monday to Friday
Banque Transatlantique London Office
125 Finsbury Pavement
London EC2A 1HX
United Kingdom
Contact : Elisabeth A. Markart
Tel : +44 207 496 18 90
Fax : +44 207 496 18 96
E-mail : btlondres@banquetransatlantique.com
Banque Transatlantique Genève Office
Avenue de Champel 29
Genève 1206
Switzerland
Contact : Nicolas Paillard
Tel : +41 22 346 10 10
E-mail : tpwcontact@transatlantiqueprivatewealth.ch
Banque Transatlantique New York Office
520 Madison Avenue
New York, New York 10022
USA
Contact : Pascal Le Coz
Tel : +1 212 644 4219
Fax : +1 212 644 7504
E-mail : btnewyork@banquetransatlantique.com
Banque Transatlantique Hong Kong Office
22/F, Central Tower
28 Queen's Road Central
Hong Kong
Contact : Juliette Michelon-Tang
Tel : +852 2106 0391
E-mail : bthongkong@banquetransatlantique.com
Banque Transatlantique Singapore Office
12 Marina Boulevard # 37-02
Marina Bay Financial Center Tower 3 Singapore 018982
Contact : Yves Pinsard
Tel : + 65 6441 2000
Fax : + 65 6438 5789
E-mail : btsingapour@banquetransatlantique.com
Banque Transatlantique Montreal Office
1170 rue Peel – Bureau 601
Montreal (Quebec) H3B 4P2
Canada
Contact : David Eap
Tel.: +1 514 985 4137
E-mail : btmontreal@banquetransatlantique.com
Banque Transatlantique Belgium Office
Rue de Crayer 14
B 1000 Bruxelles
Belgium
Contact : Fabrice de Boissieu / Michel de Villenfagne
Tel.: +32 2 626 02 70
Fax: +32 2 626 02 71
E-mail : btb@banquetransatlantique.be
Banque Transatlantique Luxembourg Office
17 Côte d'Eich – BP 884
L 2018 Luxembourg
Contact : Didier Huard / Mériadec Portier
Tel.: +352 46 99 891
Fax: +352 46 99 89 222
E-mail : btl@banquetransatlantique.lu